18/08/2018
February was London Fashion Week month – which I love, because it is a very exciting event for a creative person. I have a couple of goals surrounding it: showing up (mainly in the streets, as it seems to be the rawest place for creativity), meeting like-minded people (to befriend, collaborate with or do any kind of artistic project together) and absorbing the energy and creativity of it all. The event is the perfect occasion for all that because I am definitely not the only one to go for these reasons. Also, I have been working on my representation as a male/designer/artist for a couple of years now and this is the perfect opportunity to challenge my creativity and come up with new ideas/outfits and plenty of experimentation.
–
This February 2018, I was able to go every day but one, which meant I "had" to come up with four different looks. There were two new blazers I had never worn or customised before: one blue and one hot pink. So I thought I could play with colour and gender (blue boy/pink girl) and build my looks around them. When I think about it, I usually build my looks around my blazers. I found the silhouette I think suits me best in 2015 and I am mainly sticking to it, but trying to evolve and experiment with other shapes a bit more. I had another blazer in baby pink that I started customising and wore at the "Wearing Wellbeing" conference. So I thought: "OK I have two pink looks, now I need two blue looks!" So I chose to build a look around the beautiful blue/purple kimono Carmen Bury gifted me through Sue Kreitzman in January for the second blue look.
–
London Fashion Week – day 2 – Saturday 17th of February
For my first day, I wore the hot pink blazer bare, although I replaced the basic front button with an amazing French car boot sale find: an old metallic button covered in rhinestones. And I replaced the wrists' buttons with rhinestones form an old metallic belt I had. I have to explain: as I believe in "more is more", I usually leave a new blazer as it is when I wear it for the first time(s). Then the least I can do to take it up a notch for a second outing is change all the buttons, then I start embellishing one lapel for a third outing, then the second lapel for a fourth, then one shoulder, then two, the back, and so on. It is called "adornism", which is a movement that a lot of my artist friends follow, like Sue Kreitzman and Anne-Sophie Cochevelou. "More is more and less is a bore." I accessorised it with my Tudors neckpiece I made in early 2017 – with a ruffled necklace base, Christmas decorations of Henry VIII and his six wives and garlands from the Old Spitalfields Thursday flea market. I wore white jeans and silver shoes. And I finished the look with a bamboo bag I got from the flea market and added big hot pink flowers on it. I also "curated" my hair, which is something I started doing in September 2017, as I am letting it grow. The idea is to gel it and pull it all up in a ponytail or bun and then pin whatever I fancy in it, usually artificial flowers, garlands and pieces of jewellery.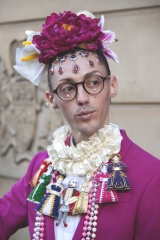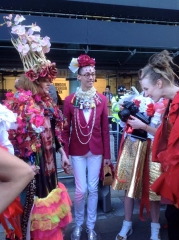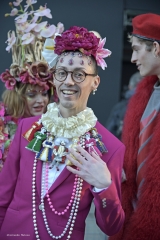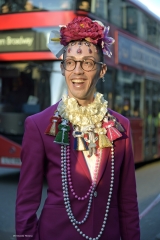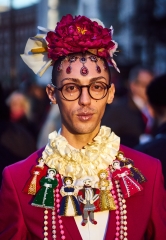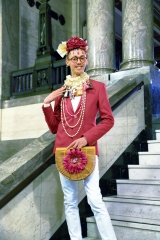 Pictures by Becky Dix, Sharon Zachs, Fernando Matoso, Ivan Ptitsyn and Alan Watson
–
London Fashion Week – day 3 – Sunday 18th of February
For my second day, I wore my blue blazer – bare as well, but I replaced the front button and accessorised the front with plenty of brooches somehow related to my origins (meaning: French from France) as well as the country/city that welcomed me (meaning: the UK/London). Frog meets Union Jacks, butterfly, egg, cicada, teapot and crown, roses and hearts, guards and double-decker bus and shades of blue, white, red. It was a lot of fun curating the brooches then placing them at the right spot. I wore a red beret, a red tartan bow tie, white jeans, tan shoes and a tartan handbag.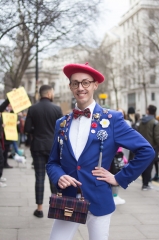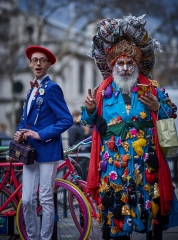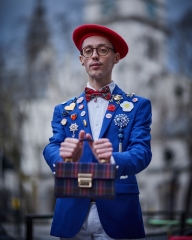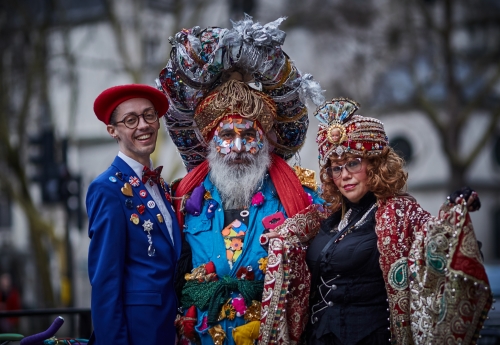 With Kala Kala and Dorothy Payne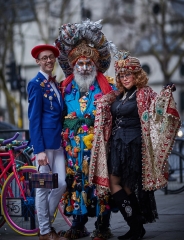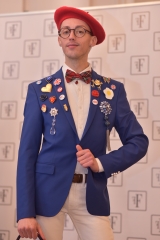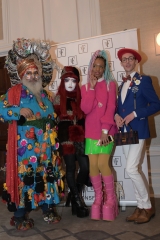 Pictures by Francisca Larawan, Mike Marchant and Leo Joshua With Kala Kala, Minori and Sade
–
London Fashion Week – day 4 – Monday 19th of February
For my third day, I wore the baby pink blazer (with hand stitched hot pink flowers, pearls, butterflies and broken brooch), gold bow tie with necklace, hot pink beret with hand stitched white flowers and pearls, light blue jeans with hand stitched white flowers and pearls on the bottom half, pink socks and gold heels. I finished the look with a silver and gold bag in the shape of a radio.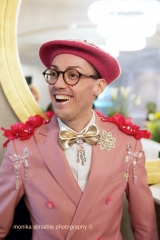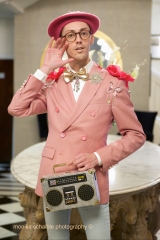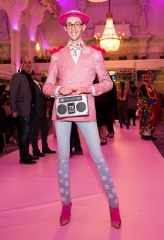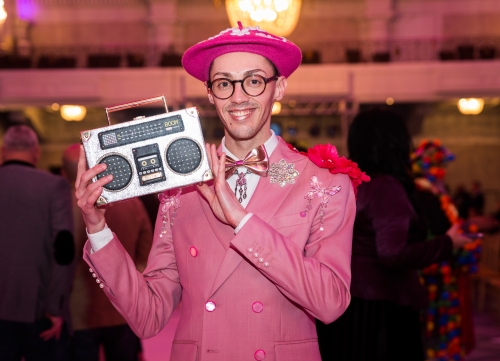 Pictures by Monika Schaible and Mazin Al-Awira
–
London Fashion Week – day 5 – Tuesday 20th of February
Finally for my fourth day, I wore my gorgeous Carmen Bury kimono with purple bow tie and hand stitched charms, black shirt and black jeans, blue socks and black heels. I completed the look with a crazy headpiece made by a photographer friend: Matt Parker. And a blue box bag that I decorated with a glittery butterfly for the occasion.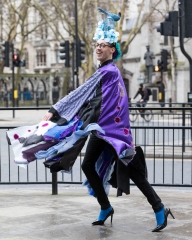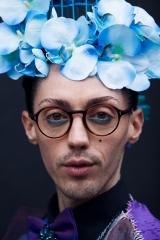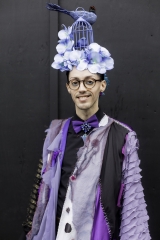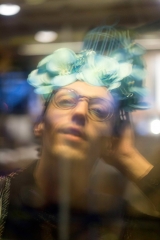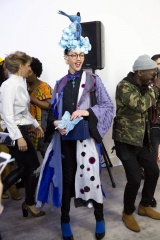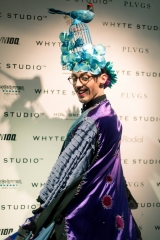 Pictures by Neil Pho, Alvaro Garcia Vizcaino, Clara Euler and Daniel Damilola Nejo
–
The day following Fashion Week's last day was a very special day. Old Spitalfields Market was launching a new recurring trading event: the "Silk Series", curated by Meihui. The principle is from Monday to Wednesday every week, artists and local makers occupy one section of the market and sell their art and creations. For the occasion, we made it a "Sue Kreitzman Day", as Sue is like a Godmother to the market, as well as a big supporter and an inspiration to many. She brought a part of her flat: sculptures, mannequins, clothes and jewellery, and even furniture, so that she could have tea and a chat with people. Sue gave a talk, we had a loose "Unfashion Show" and of course I organised a Colour Walk! From that event, I decided I should support Meihui and the "Silk Series" and commit to organise the Old Spitalfieds Monthly Colour Walk one Wednesday a month instead of Thursday (as of 2017, supporting the Thursday Flea Market).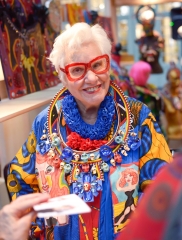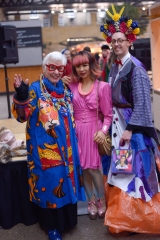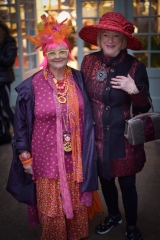 Sue Kreitzman, Meihui, Sue Harding and Victoria by Richard Kaby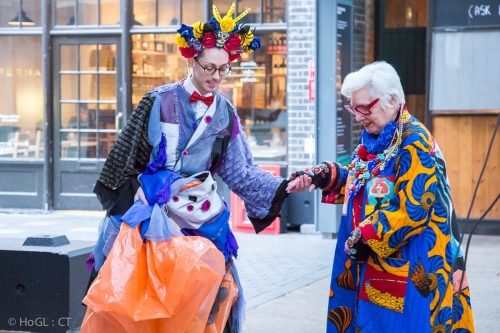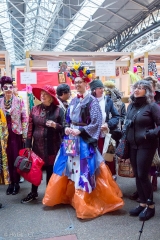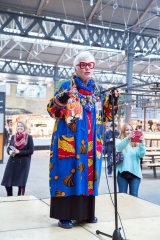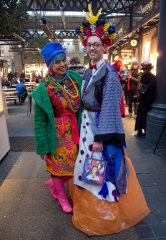 Pictures of myself in the crowd and Sue on stage by Cathy Teesdale for Humans of London
Right picture with Momtaz by Leah Lefevre. Momtaz wrote a heartfelt article on her blog after meeting us at the Colour Walk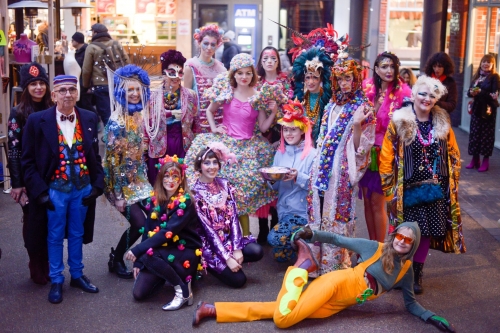 Group picture of Anne-Sophie and her models with some of the Colour Walkers by Richard Kaby
–
The next day in the evening, I had the pleasure of being one of the guests at the Petrie Museum of Archaeology. How surprising, isn't it? For their LGBTQ+ History Month event "Objects of Desire", John J. Johnson – the Museum's Egyptologist – invited me as well as Douglas McNaughton, Anne Langford and David Bullen to join him and talk about an object from the Museum's collection we each selected and that would be in relation to our work. I chose a tiny stone frog figurine, for obvious reasons! La France... hihi! It was a new challenge for me and I loved it! After my first full English talk in November 2017 for the "Wearing Wellbeing" conference, it was a new full English public speaking experience. It felt definitely easier as I found it was a natural conversation with John who was naturally leading and knew his subject absolutely. The three other contributors were fascinating and Sue came to support. She was one of the 2017's contributors and she's also the one who introduced me to the Museum and to John. We had several great visits in 2017 and this evening was another memorable evening.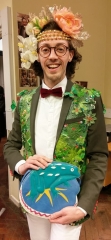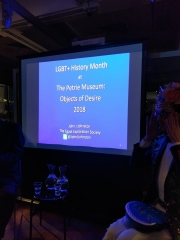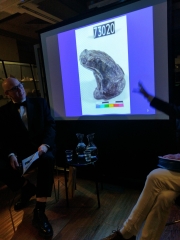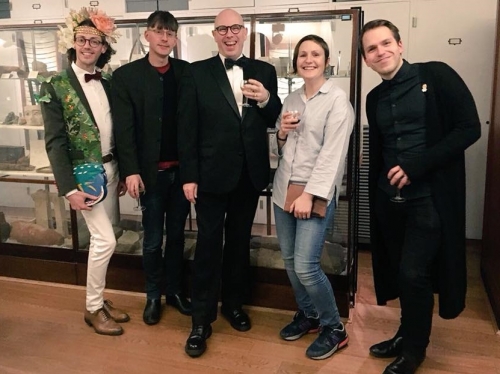 Douglas, John, Anne and David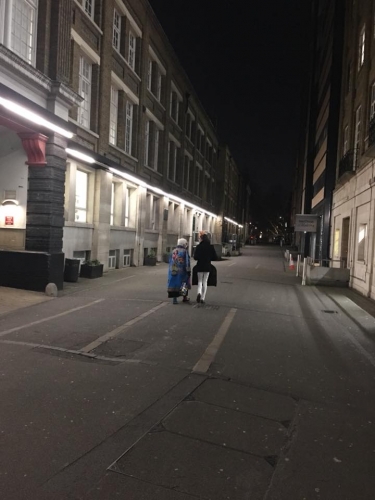 I love this picture of Sue and I leaving taken by John, it's very cinematic...

–
To be continued...
20/03/2018
Blogging in English is long overdue for me! I moved to London on the 23rd of January 2014, so I just celebrated my fourth year anniversary. So many things happened since I moved and I now think I should be sharing them as well as my creative journey!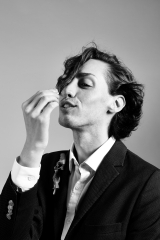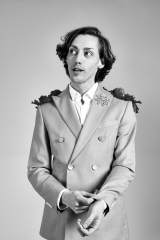 Pictures by Paul Hammond – November 2017


Because I feel I'm quite late to the party though, I will start talking about the month of January 2018 and maybe it will lead to some other past stories and events since I moved here. One thing is for sure, I am blossoming in London and "becoming myself" more and more, which is very exciting! I also feel very lucky as I am surrounded by amazing friends and people who inspire me every day.
–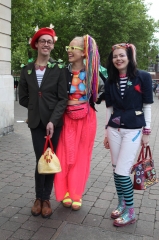 Early January, on the 3rd, I had the great pleasure to be a part of Vicky O'Neon's video clip for her new song "Games 4 3". I met Vicky at a Colour Walk I organised on the 14th of May 2017 in Walthamstow for "the return" of Sue Kreitzman from New York. Vicky is a multi-instrumentalist and singer and she is always wearing neon colours! She is very high energy and a lot of fun to be around! When I met her I told her "O'Neon" could be interpreted as "Onion" and I found it hilarious! It still makes me laugh, actually!


14.05.2017 – Colour Walk with Vicky and Estelle, picture by Helena Dornellas


We filmed the "party scene" of the video clip in an East London flat and it was so much fun! Kala Kala, Estelle and many friends were here as well! About my outfit: I love experimenting on the gender spectrum when I dress up and have no issue with being a "man in a dress". So I was wearing my yellow recycling bags dress over a white shirt and black trousers, completing the look with a flower crown, a black bow tie with a golden key charm and black heels. Half man, half woman: I become everything!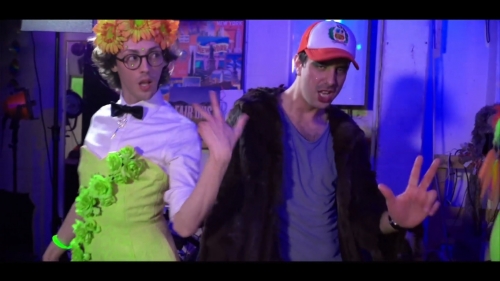 Still from the video clip, with Christopher whom I also met at the May 2017 Colour Walk
Video clip directed by Yulia Hauer
–
On the 12th, the "Sewing Circle – Rethread" exhibition curated by Peter Herbert in the Saint Pancras Hospital gallery came to an end. I was exhibiting my work (three dresses as well as three neckpieces and one headpiece) alongside twenty two other artists and friends. We all had a gathering before dismantling everything and it was also the occasion to watch a short film by Anna Bowman about the exhibition.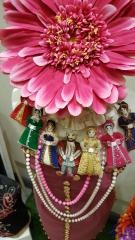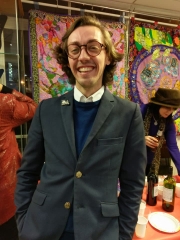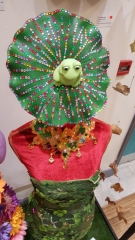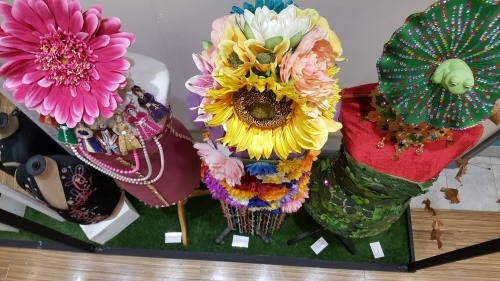 Pictures by Sue Kreitzman and Peter Herbert
Film by Anna Bowman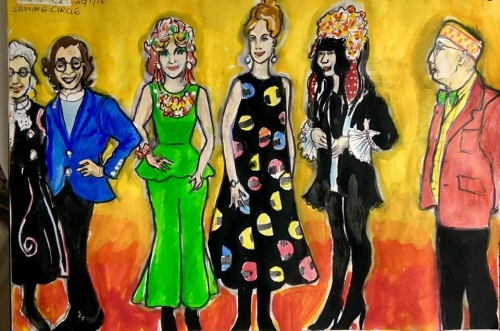 Sketch by Sue Harding
–
On the 18th, I organised the first Old Spitalfields Monthly Colour Walk of the year to celebrate Sue Kreitzman's return from her regular New York visits. I was wearing my peacock blazer over my orange plastic dress I made out of Sainsbury's and dry cleaning bags. I also pulled my hair up and pinned it with artificial flowers and a plastic butterfly my mum got me from who knows where!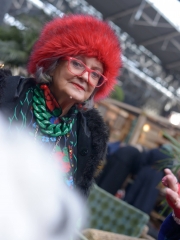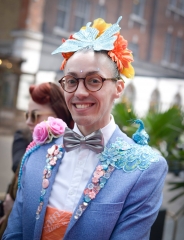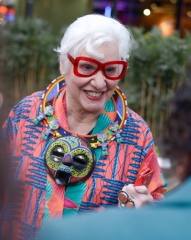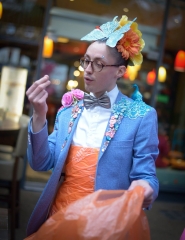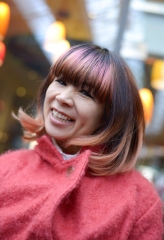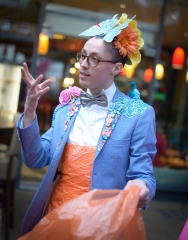 Sue Harding, Sue Kreitzman, Meihui Liu and I by Richard Kaby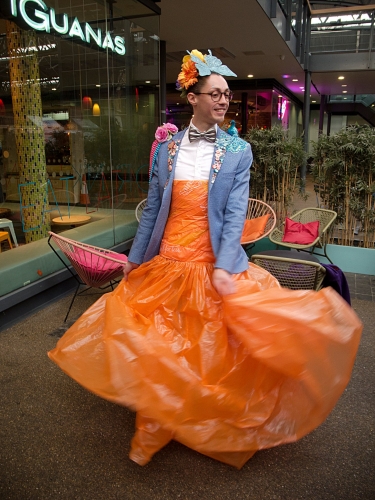 Picture by Leah Lefevre


Photographer Matt Hussey offered to take my portrait for the occasion. He is doing a "365 project" which consists in photographing a different person each day. I had reached out to him after I saw he photographed a couple of my friends and thought it would be interesting to be involved as well. We chatted a little bit before he photographed me, which was right after we took the usual group picture at Colour Walk peak time.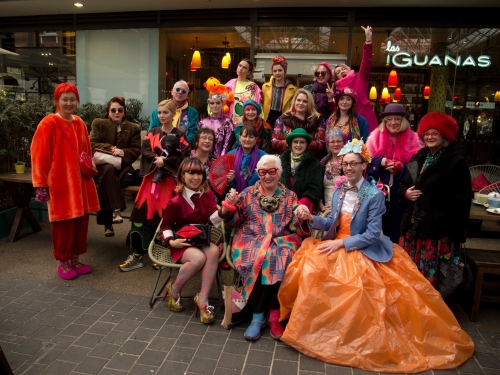 Group picture by Leah Lefevre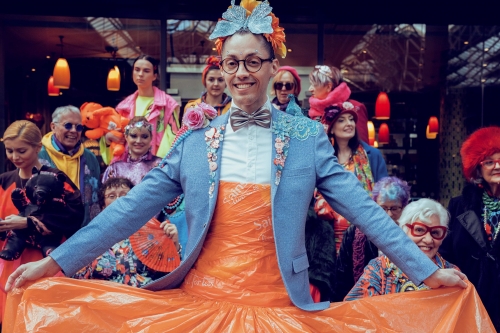 Day 173, by Matt Hussey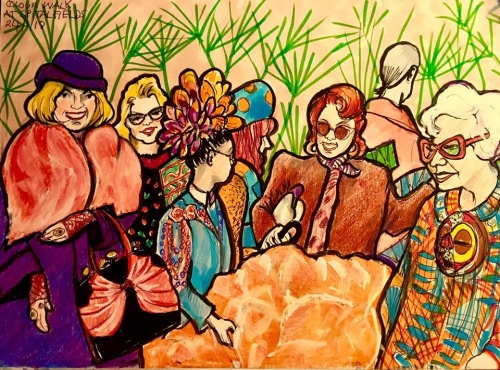 Sketch by Sue Harding

Also, Sue K. brought back some fabulous gifts for Anne-Sophie, Meihui and I, all by her NYC friend and artist Carmen Bury. We each got an incredible kimono and I even got a bag by Carmen too! This lady is so generous, it is very touching. I cannot wait to meet her one day!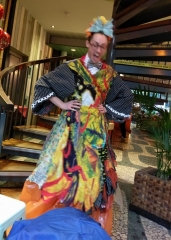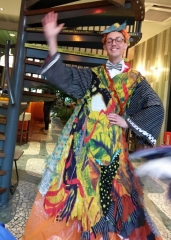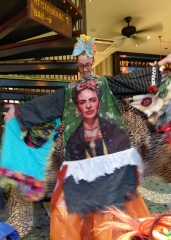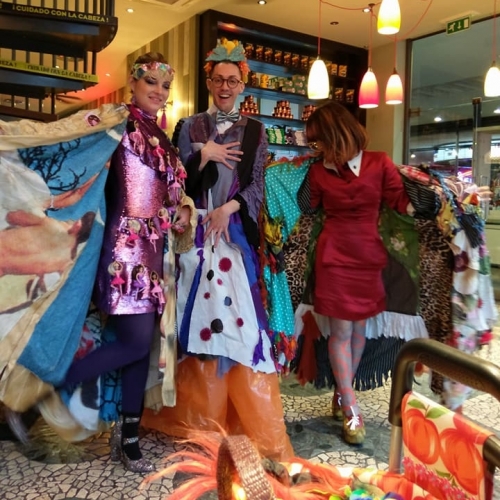 Pictures by Sue Kreitzman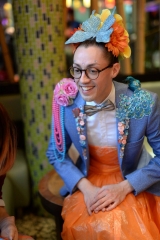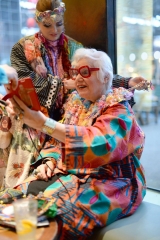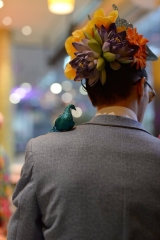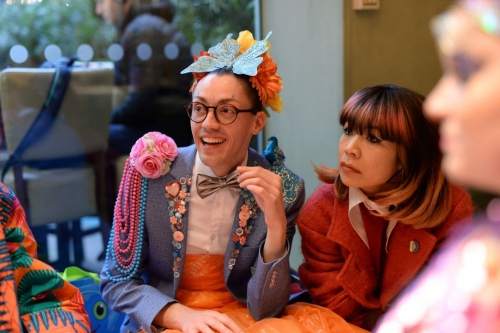 Pictures by Trisha O'Neil
–
On the 19th, I went to a performance afternoon organised by Lara Buffard in Battersea, to raise money for Papyrus: a youth suicide prevention charity. The event had a surreal theme so I decided to wear my "fifty shades of green" dress and go as "Lady Ivy", reminiscing of a tree and carrying my apple bag. I felt very Eve, haha! It was a very entertaining afternoon for a great cause.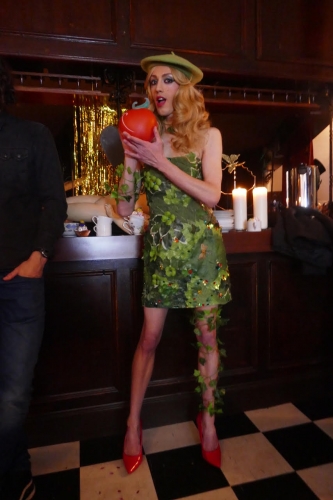 Picture by Sallyanne Wood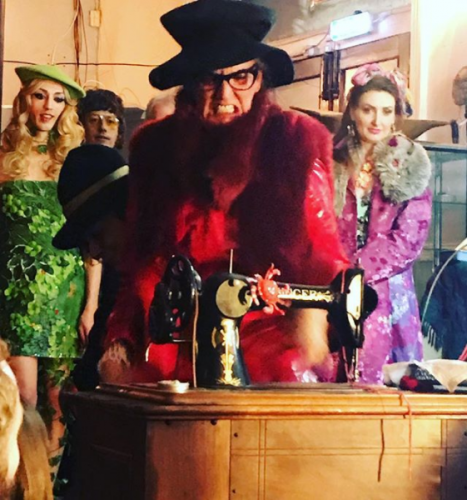 Picture by Lara Buffard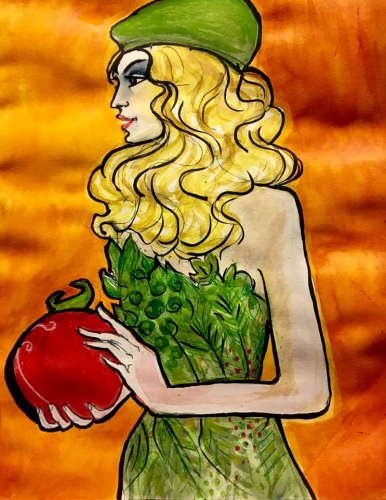 Sketch by Sue Harding
–
To be continued...
10/02/2018
The second clip of the two day "Ten Year Anniversary"
fashion show I had in France in May 2016.


18/12/2017
Finally, it's here!
The first clip of the two day "Ten Year Anniversary"
fashion show I had in France in May 2016.

Designing, creating, gathering friends to model as well as talented
people to do hair, makeup, photography and sometimes even film,
in order to put on a happy and colourful show
when I fancy is what I absolutely love to do!
I hope you enjoy everyone's work, it's literally pieces of us.
21/11/2017
Hi guys! This is my first English article on my French blog! Last week I coorganised a conference about "wearing wellbeing" with two friends: Rebecca Weef Smith and Cath Carver.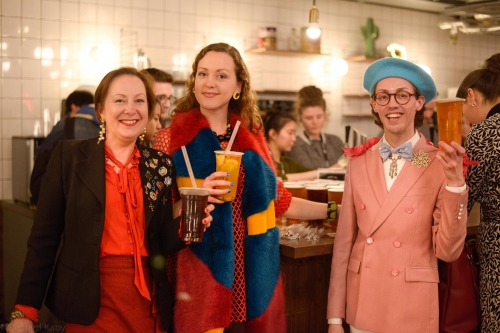 Rebecca Weef Smith, Cath Carver and I with our sponsored drink YiFang tea

It was all about the psychology of fashion and how what we wear can make us happy. We gathered a panel of five speakers: Sue Kreitzman, Rebecca herself, Carolyn Mair, Tansy Hoskins and I, and then we had a Q&A session moderated by Cath. It was a sold out free event with 100 seats and it happened in We Work Old Street. The pictures of the evening are all by the talented Richard Kaby.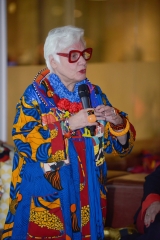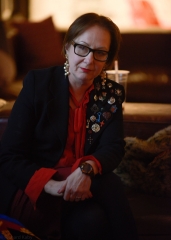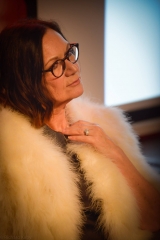 Sue Kreitzman Rebecca Weef Smith Carolyn Mair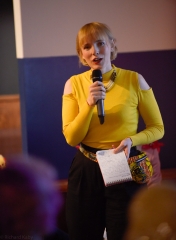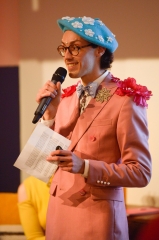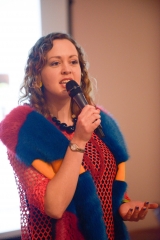 Tansy Hoskins Florent Bidois Cath Carver

This was actually the first talk I ever gave in English and it was very exciting and scary at the same time. I wanted to write this article to share the text I wrote for my talk so that it reaches more people. Enjoy below!
-
Hello everyone! Let me introduce myself: I am Florent Bidois, I am a Frenchman and I have been living in London for almost four consecutive years. I define myself as a fashion designer but I feel I am more interested in wearable art than fashion and I have always been interested in womenswear over menswear. Until last year!
Today, I would like to tell you the story of my fashion journey as a male. I have always been passionate about women's fashion and its endless possibilities. But on the other hand as a male, I have always been extremely uninterested when it came to getting dressed, because I found menswear boring and useless. I really didn't care how I looked because I never needed clothes to say things for me, change me or to hide behind them. I think I have a great personality, and I have always been a confident person. So really, fashion for me was very secondary, if non-existent... Until I realised that on top of always looking younger than my age, I also never looked like "a designer". And obviously when you lack credibility because everybody thinks you are young, or too young, it doesn't help when you look crap as well!
So yeah, basically I could feel a change in how others interacted with me when I was making an effort, or when at least I thought I looked good or better than usual. And of course if I thought I looked good or better than usual, maybe my confidence level would increase, because there's always room for more! But in the big picture, I still didn't care about menswear. The thing is: I have always wanted to create dresses and jewellery! I was always sketching female silhouettes at school. I have been designing and organising womenswear fashion shows for eleven years, where I was putting all my ideas in creating my vision of the Woman that inspired me. Even when people would ask me: why don't you try to make menswear more fun or try to make a change, so at least you could like it? And I would answer that if I wasn't inspired, then why would I force it? This, as a very logical person, made a lot of sense!
So what happened to me? What changed? Why do I look like this today? ... I can tell you; this outfit makes me VERY happy! It's colourful, it's personal and it's singular. I thought it out, I customised basic clothing and I made it my own. It screams me!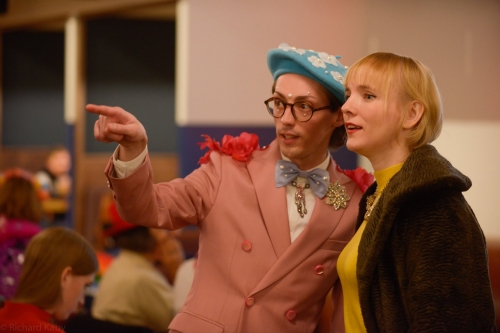 How I was dressed for the event, here with speaker Tansy Hoskins

I think London happened to me. I came here for the first time in 2011 and I stayed for a short while. And when I went back to France, the only thing I wanted was to come back here as soon as possible, and hopefully even move here. I remember feeling free here, or at least more free than in France. I also felt a lack of judgment. And a knack for experimentation.
When I moved back in 2014, I was still the old me, still disinterested in menswear. But open and willing to experiment and find my way, because London was allowing me to. Fast forward to 2015, I had the pleasure to meet a fellow French designer: Anne-Sophie Cochevelou.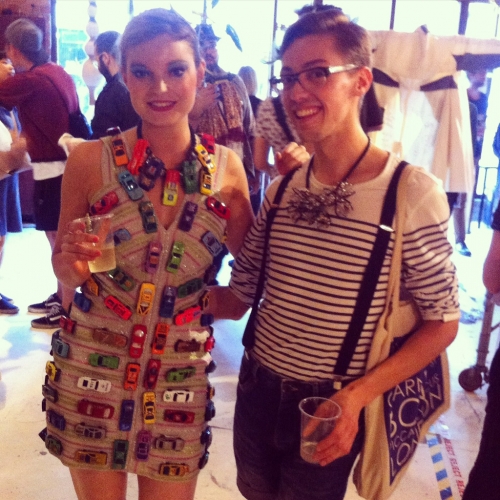 11.07.2015 – Meeting Anne-Sophie Cochevelou for the first time

She's a fabulous costume designer based in London. Not the typical French woman when it comes to expressing herself through clothes, which was fascinating to witness. The fashion I was creating for women was always more colourful and fun than the fashion I would wear for myself. But with meeting Anne-Sophie, I started wanting to have as much fun as my models in my shows! Why not? Everybody should!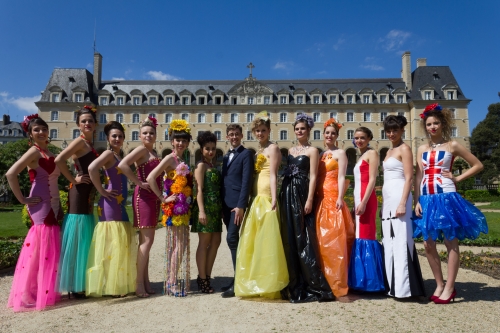 15.05.2016 – My last womenswear collection

Later that year, she introduced me to Sue Kreitzman. And just as much as this amazing lady changed many of her friends' lives, she also changed mine. Personally, I am always very excited to see what she shows up wearing. Just as much as she's always excited to see what her friends would show up wearing. And this, in my opinion, is a recipe for greatness. Because as a creative person, I think it pushes people to try harder, to challenge themselves and to come up with new ideas constantly. Also, having someone in my life that is as excited to see what I wear, as I am excited to see what she wears, is a blessing. Not many people are the cheerleading type, but God knows Sue and I definitely are!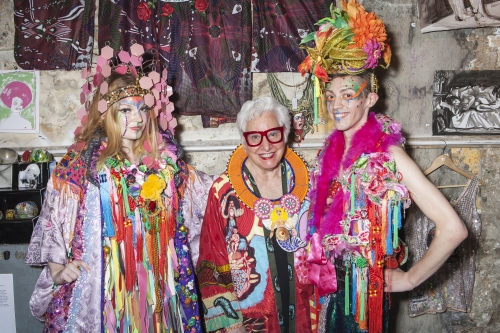 03.11.2015 – First time meeting Sue Kreitzman

So there you have it, by expressing ourselves through clothing, and encouraging others to dress as they please, there's an inspiration process happening. Personally I do not have much clothing yet, so I don't dress like this every day. But I choose to dress up when I want to. And it is usually related to occasions. I usually say: "any occasion is an excuse, any excuse is an occasion." So I dress up for events, which is great in several ways.
One: it helps my memory. Normally I would gather pictures after events I would attend, and then I would organise them in files named after the date and the event on my computer. Thanks to it, I have a great date memory, because I can associate outfits I wore with events I attended and dates they were on.
Two: it creates memories. There's no way I wouldn't meet, interact, socialise, bond, and even make friends with people while being all dressed up. I also associate the people I met with the outfits I wore, which helps my memory again. It creates a life for my clothes. They become more important, richer, and more sentimental. Associating people with clothing is very sentimental, actually. And seeing or wearing an item that would remind you of someone, somewhere or something helps cultivating your wellbeing.
Three: it's a lot of work to get dressed when your personality is colourful and flamboyant and you wish your clothes to reflect it. So what I like about dressing up is that I can plan my outfits in advance and really think about it. What colour? Why? Where am I going? What occasion? Can I make a statement? And this is how I like it for now. But hopefully the older I get the more clothes and space for it I get too, and maybe I'll end up getting dressed instead of dressing up. Well at least when you dress up it makes everything special because it's not the way you dress every day.
Alright, before I end this talk, I would like to share some of the things I believe in and often tell myself. I don't believe in rules, but these words help me on my journey to becoming myself.
"You only look ridiculous if you think you are."
"Everything starts from yourself."
"Dress for the job you want."
"Fake it till you make it."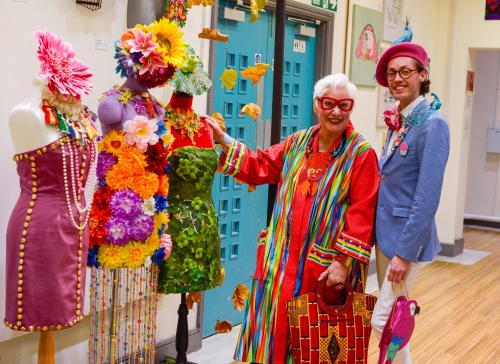 For me, it's not about fashion, it's about expression.
Thanks to clothes we can literally become anyone.
And we can decide to be someone new every day.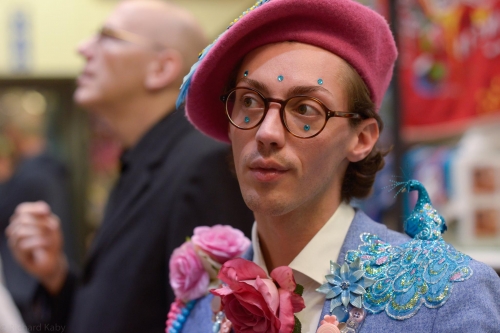 I like to be a chameleon. I don't mind standing out,
but I am not actively looking for it. And I don't mind fitting in,
just as long as it's not in one place in particular.
Thank you.
-
I would like to thank the photographers behind all the pictures I used in my presentation and article: Adrien Leguay, Richard Kaby, Michele Martinoli, Helena Dornellas, Cathy Teesdale, Ruthy Mandry, Neil Andrews, Semen Sapaiev, Ceri Oxman, Diana Dau, Pouru Onishi, Zac Zenza, Daniel Rachev, Jared Phanco, Bill Gidda, @mrlittlelake, Elena Rostunova and Leah Lefevre.