20/03/2018
January 2018 – London
Blogging in English is long overdue for me! I moved to London on the 23rd of January 2014, so I just celebrated my fourth year anniversary. So many things happened since I moved and I now think I should be sharing them as well as my creative journey!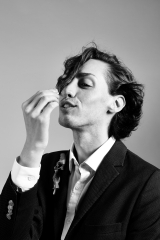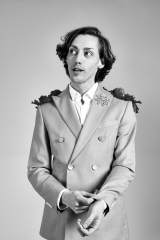 Pictures by Paul Hammond – November 2017


Because I feel I'm quite late to the party though, I will start talking about the month of January 2018 and maybe it will lead to some other past stories and events since I moved here. One thing is for sure, I am blossoming in London and "becoming myself" more and more, which is very exciting! I also feel very lucky as I am surrounded by amazing friends and people who inspire me every day.
–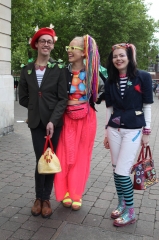 Early January, on the 3rd, I had the great pleasure to be a part of Vicky O'Neon's video clip for her new song "Games 4 3". I met Vicky at a Colour Walk I organised on the 14th of May 2017 in Walthamstow for "the return" of Sue Kreitzman from New York. Vicky is a multi-instrumentalist and singer and she is always wearing neon colours! She is very high energy and a lot of fun to be around! When I met her I told her "O'Neon" could be interpreted as "Onion" and I found it hilarious! It still makes me laugh, actually!


14.05.2017 – Colour Walk with Vicky and Estelle, picture by Helena Dornellas


We filmed the "party scene" of the video clip in an East London flat and it was so much fun! Kala Kala, Estelle and many friends were here as well! About my outfit: I love experimenting on the gender spectrum when I dress up and have no issue with being a "man in a dress". So I was wearing my yellow recycling bags dress over a white shirt and black trousers, completing the look with a flower crown, a black bow tie with a golden key charm and black heels. Half man, half woman: I become everything!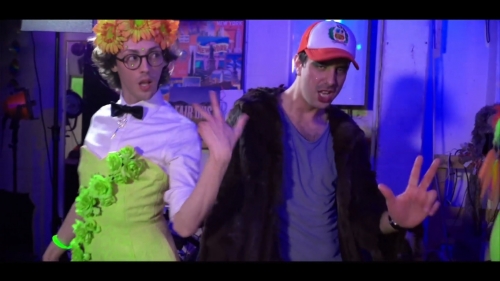 Still from the video clip, with Christopher whom I also met at the May 2017 Colour Walk
Video clip directed by Yulia Hauer
–
On the 12th, the "Sewing Circle – Rethread" exhibition curated by Peter Herbert in the Saint Pancras Hospital gallery came to an end. I was exhibiting my work (three dresses as well as three neckpieces and one headpiece) alongside twenty two other artists and friends. We all had a gathering before dismantling everything and it was also the occasion to watch a short film by Anna Bowman about the exhibition.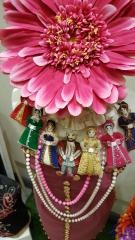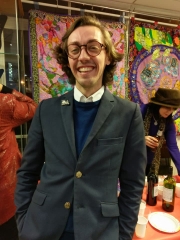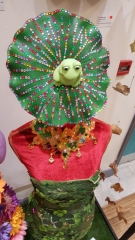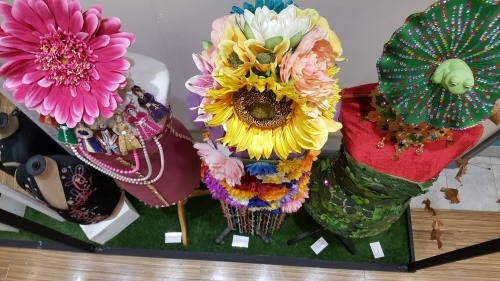 Pictures by Sue Kreitzman and Peter Herbert
Film by Anna Bowman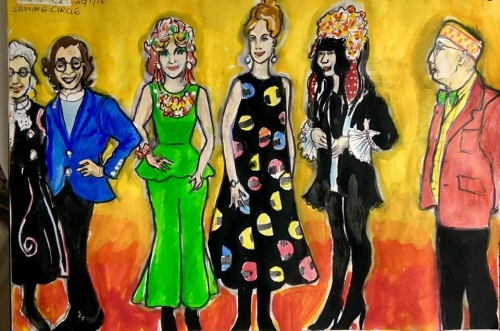 Sketch by Sue Harding
–
On the 18th, I organised the first Old Spitalfields Monthly Colour Walk of the year to celebrate Sue Kreitzman's return from her regular New York visits. I was wearing my peacock blazer over my orange plastic dress I made out of Sainsbury's and dry cleaning bags. I also pulled my hair up and pinned it with artificial flowers and a plastic butterfly my mum got me from who knows where!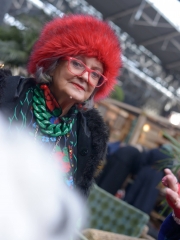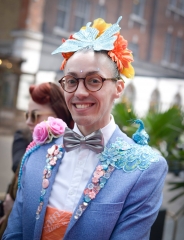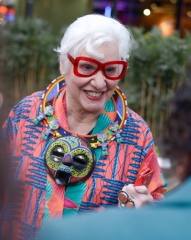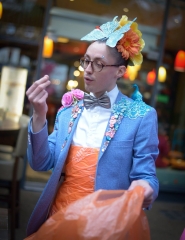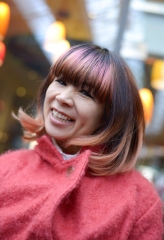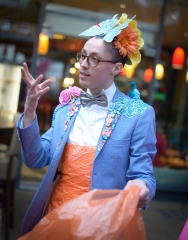 Sue Harding, Sue Kreitzman, Meihui Liu and I by Richard Kaby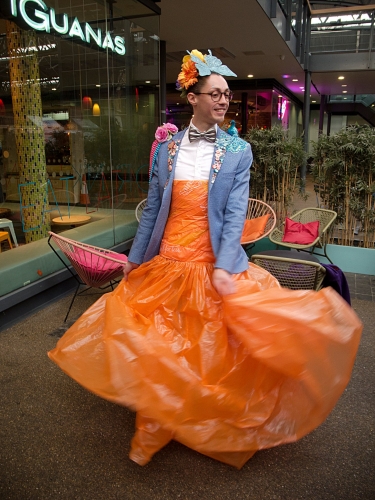 Picture by Leah Lefevre


Photographer Matt Hussey offered to take my portrait for the occasion. He is doing a "365 project" which consists in photographing a different person each day. I had reached out to him after I saw he photographed a couple of my friends and thought it would be interesting to be involved as well. We chatted a little bit before he photographed me, which was right after we took the usual group picture at Colour Walk peak time.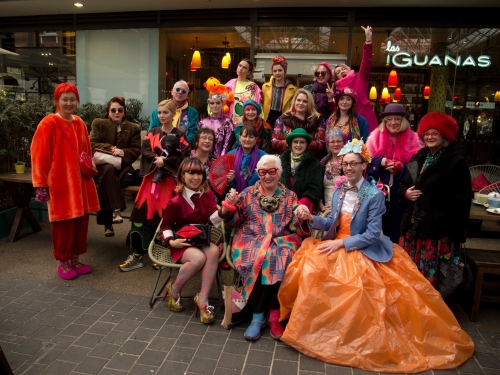 Group picture by Leah Lefevre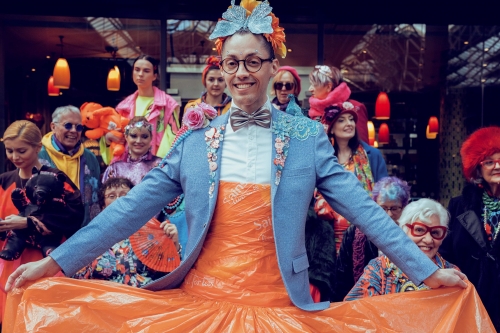 Day 173, by Matt Hussey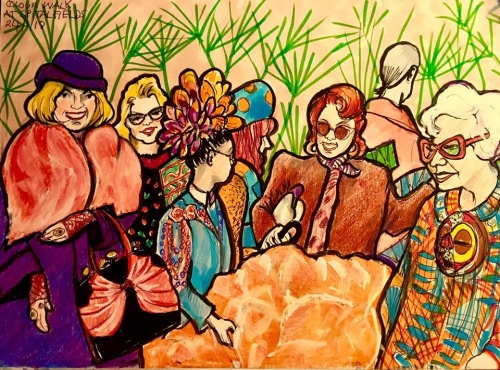 Sketch by Sue Harding

Also, Sue K. brought back some fabulous gifts for Anne-Sophie, Meihui and I, all by her NYC friend and artist Carmen Bury. We each got an incredible kimono and I even got a bag by Carmen too! This lady is so generous, it is very touching. I cannot wait to meet her one day!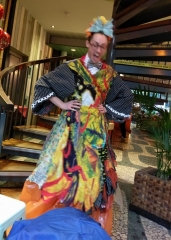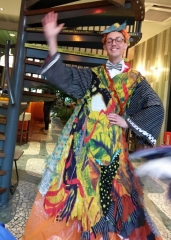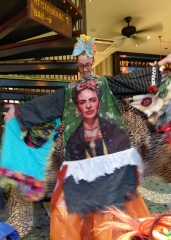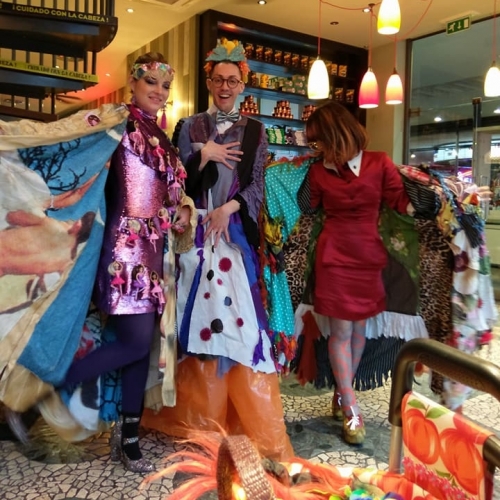 Pictures by Sue Kreitzman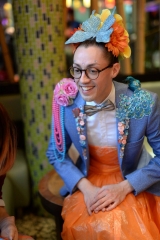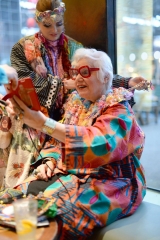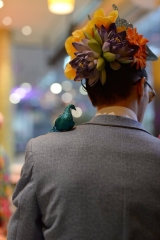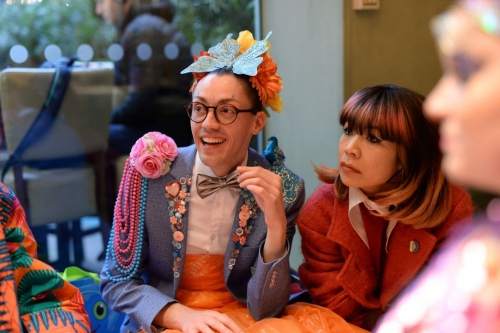 Pictures by Trisha O'Neil
–
On the 19th, I went to a performance afternoon organised by Lara Buffard in Battersea, to raise money for Papyrus: a youth suicide prevention charity. The event had a surreal theme so I decided to wear my "fifty shades of green" dress and go as "Lady Ivy", reminiscing of a tree and carrying my apple bag. I felt very Eve, haha! It was a very entertaining afternoon for a great cause.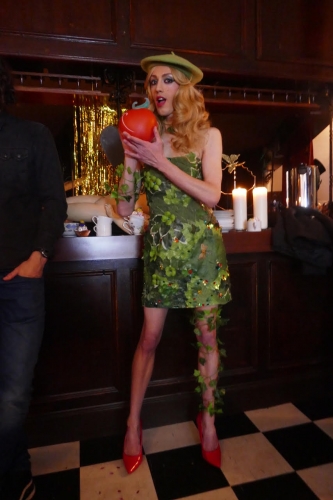 Picture by Sallyanne Wood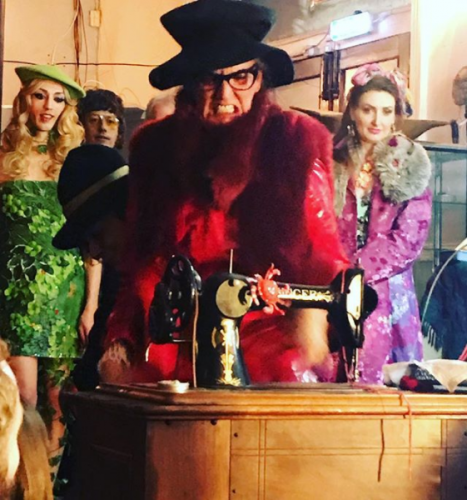 Picture by Lara Buffard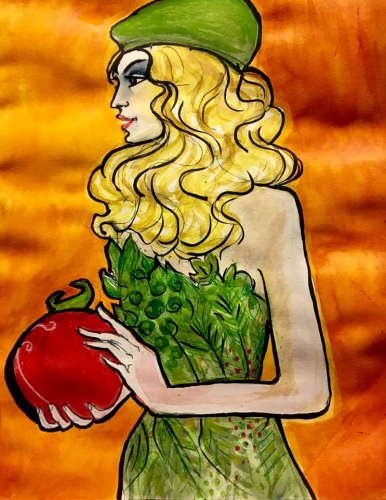 Sketch by Sue Harding
–
To be continued...