09/11/2020
The Fabulous Adventures of the Flamboyant Twins
On the 21st of November 2017, Sue Kreitzman and I organised a crazy and huge photoshoot with our friend and photographer Michele Martinoli. It was meant as a celebration of Sue's Artist Mythologies and Passions, imagined into scenarios to be frozen in time. A long and busy day of shooting in Sue's incredible London Art Flat, involving many outfit changes and lots of props. Weird and funny, the pictures are great memories and a beautiful depiction of the friendship the three of us share.
.
We start with one of Sue's favourite stories: the Legend of the Alligators in the sewers of NYC. It is based upon reports of alligator sightings in New York City and originates from people having them as illegal pets, then bored children would let them loose or some would even escape. There we have the Flamboyant Twins in Sue's bathroom, minding their own hair after trying to flush their illegal pet alligator down the toilet. Successful? You tell me!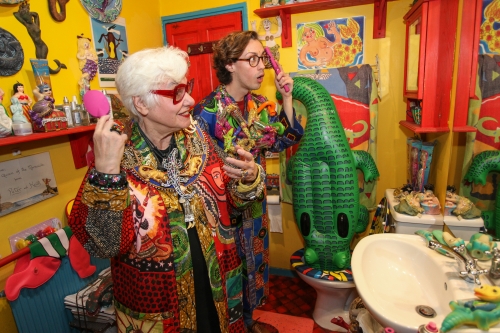 Sue loves Mermaids! For many reasons, what they represent, and especially for the comparison with menopausal women: "no problem down there!" But also because they symbolize Sue's artistic epiphany, the time she picked up a highlighter and drew a mermaid while proofreading her twenty seventh cookbook. She looked at the Mermaid, the Mermaid looked at her. Then she was an Artist. And the rest is Herstory! So here is Sue in her other bathroom, caring for her Mermaid friend she's hosting in her bathtub. So much fun, we said!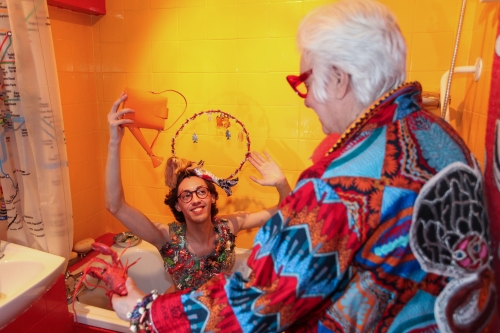 Now the Flamboyant Twins embark on the story of the Burglar Squirrel, which really happened to Sue! But she will tell the story much better!
.
I live in an estate, in the middle of London's East End, that's very park like. I'm on the ground floor with a back walled garden and a small front garden. No vehicular traffic whatsoever in front or in back. Very green, very delightful. But we do have critters. Many, many critters. Brazen foxes, sneaky rats, adorable mice, visiting cats. And an astonishing number of playful, friendly, hyperactive squirrels. We hate the rats, we keep the mice at bay, we converse with the foxes at night, and we dote on the visiting cats; sometimes we even invite them in. The squirrels? We adore them. We feed them, we watch them play, we laugh at their antics. But we want them to stay outside, in the foliage, on the lawn, in the trees, where they belong.
One day, I was working on my laptop when I heard my assistant Hana, at the back door, yelling at someone or something. I rushed over to see a squirrel, defiantly trying to enter. "I think the word you are searching for is SHOO" I said, and sure enough, with a little encouragement, the squirrel turned and left. What we didn't realise was that the squirrel was a decoy. While we saw him off at the back door, his girlfriend crept in through the open front door and scurried upstairs. I went upstairs into my study and a flying furry missile launched itself at me. I'm not afraid of squirrels, but I didn't expect one in my study, I shamefacedly admit: I screamed. I yelled for Hana. "A broom, a broom, bring a broom." By the time Hana arrived upstairs, wielding a broom, the squirrel was in my dressing room, trying on my kimonos, sampling my perfume. I rushed downstairs to nab another broom. Between us we persuaded her down the stairs and out the front door. She sashayed out with great dignity and I swear: she had a couple of neckshrines secured under her furry arm. Squirrels love art to wear? Who knew?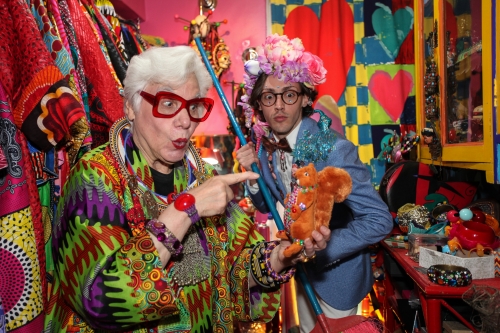 There are many, many telephones in Sue's London home. They can be used to reach out to various Goddesses and Sheroes, if one has any questions about what happens next… You know: what to wear, who's gonna be there, can one bring a pet? After calling the Afterlife Hotline, Sue spoke directly to the receptionist and asked him about Kali, Niki and Billie.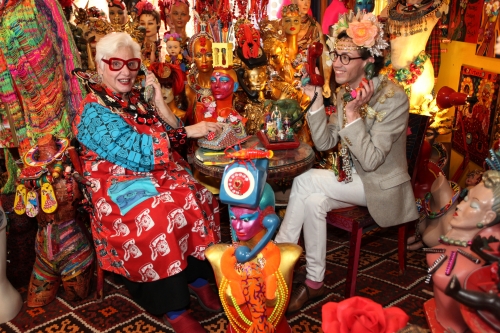 It is no surprise Frida Kahlo is a big inspiration for Sue and the Colour Tribe. Her Art, her style, but also because of her resilience. Here the Flamboyant Twins present their adaptation of Frida's painting "The Two Fridas", both wrapped in Frida covered kimonos and adorned with heart covered neckshrines, reminiscing of Sue's own resilience, surviving heart attacks a few years before.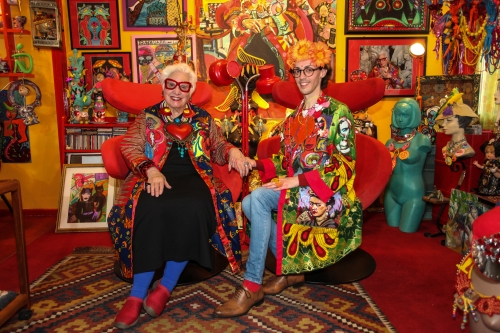 Back in New York City, Sue is friends with a talented man: Joseph "Joe" Gagliano. Joe draws and colours in with Sharpie markers. His work is vibrant, colourful, patient, pop, hypnotizing, and I fell in love with it too! Call us what you want: "Colour Tribe", "Outsider Artists", "Wild Old Woman", "Crazy people down the street". At the end of the day, we are all from the same family and we are each other's cheerleaders. So much that Sue even wears her friends Art and her own on her back! For this picture, we wanted to celebrate Joe's work in the form of a family portrait, posing with a few of his pieces from Sue's collection in front of us, hanging on Sue's wall behind us and on Sue's kimono, reproduced in appliqués by friend and artist Diane Goldie.
Snakes, strong women, monsters: these are a few of Sue's favourite things! No wonder she loves Medusa, who has it all! Rocking a kimono freshly painted by friend and artist Jaime Freestone, Sue is getting scared in her living room by her Flamboyant Twin wearing a Medusa hat! A must-have accessory in every fashionista's wardrobe, I must say!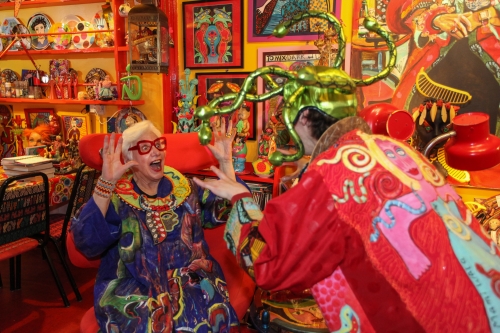 Food is very important to Sue, hell she has made a career out of it! So we had to plan a crazy meal to end our Adventures, using one of her Slim Cuisine cookbook's recipes. The story goes: "An American woman and a Frenchman are in a kitchen…" Look at us, trying to fry a frog! "Don't forget the sausages!" Sue said. Oh, the fun we have!
What a day that was! Thank you Sue, Michele, Hana and Jaime.