21/11/2017
Thursday, 16th of November 2017 - "Wearing Wellbeing" conference
Hi guys! This is my first English article on my French blog! Last week I coorganised a conference about "wearing wellbeing" with two friends: Rebecca Weef Smith and Cath Carver.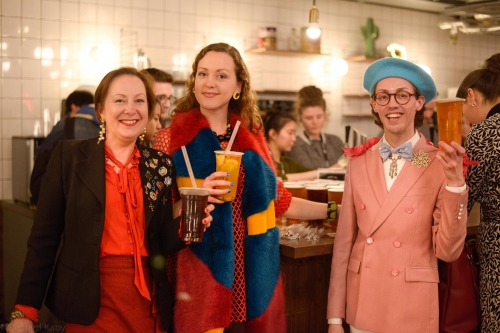 Rebecca Weef Smith, Cath Carver and I with our sponsored drink YiFang tea

It was all about the psychology of fashion and how what we wear can make us happy. We gathered a panel of five speakers: Sue Kreitzman, Rebecca herself, Carolyn Mair, Tansy Hoskins and I, and then we had a Q&A session moderated by Cath. It was a sold out free event with 100 seats and it happened in We Work Old Street. The pictures of the evening are all by the talented Richard Kaby.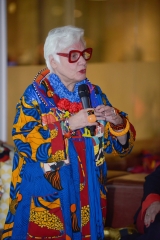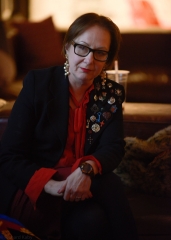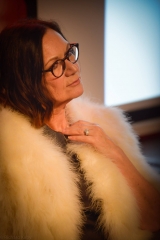 Sue Kreitzman Rebecca Weef Smith Carolyn Mair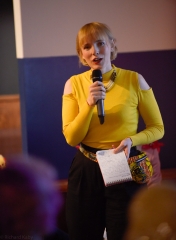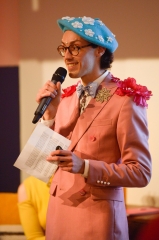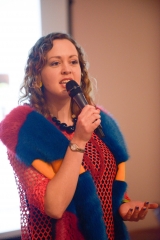 Tansy Hoskins Florent Bidois Cath Carver

This was actually the first talk I ever gave in English and it was very exciting and scary at the same time. I wanted to write this article to share the text I wrote for my talk so that it reaches more people. Enjoy below!
-
Hello everyone! Let me introduce myself: I am Florent Bidois, I am a Frenchman and I have been living in London for almost four consecutive years. I define myself as a fashion designer but I feel I am more interested in wearable art than fashion and I have always been interested in womenswear over menswear. Until last year!
Today, I would like to tell you the story of my fashion journey as a male. I have always been passionate about women's fashion and its endless possibilities. But on the other hand as a male, I have always been extremely uninterested when it came to getting dressed, because I found menswear boring and useless. I really didn't care how I looked because I never needed clothes to say things for me, change me or to hide behind them. I think I have a great personality, and I have always been a confident person. So really, fashion for me was very secondary, if non-existent... Until I realised that on top of always looking younger than my age, I also never looked like "a designer". And obviously when you lack credibility because everybody thinks you are young, or too young, it doesn't help when you look crap as well!
So yeah, basically I could feel a change in how others interacted with me when I was making an effort, or when at least I thought I looked good or better than usual. And of course if I thought I looked good or better than usual, maybe my confidence level would increase, because there's always room for more! But in the big picture, I still didn't care about menswear. The thing is: I have always wanted to create dresses and jewellery! I was always sketching female silhouettes at school. I have been designing and organising womenswear fashion shows for eleven years, where I was putting all my ideas in creating my vision of the Woman that inspired me. Even when people would ask me: why don't you try to make menswear more fun or try to make a change, so at least you could like it? And I would answer that if I wasn't inspired, then why would I force it? This, as a very logical person, made a lot of sense!
So what happened to me? What changed? Why do I look like this today? ... I can tell you; this outfit makes me VERY happy! It's colourful, it's personal and it's singular. I thought it out, I customised basic clothing and I made it my own. It screams me!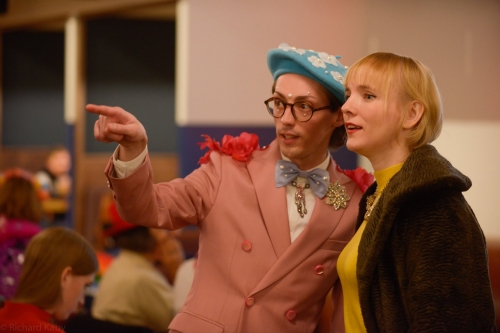 How I was dressed for the event, here with speaker Tansy Hoskins

I think London happened to me. I came here for the first time in 2011 and I stayed for a short while. And when I went back to France, the only thing I wanted was to come back here as soon as possible, and hopefully even move here. I remember feeling free here, or at least more free than in France. I also felt a lack of judgment. And a knack for experimentation.
When I moved back in 2014, I was still the old me, still disinterested in menswear. But open and willing to experiment and find my way, because London was allowing me to. Fast forward to 2015, I had the pleasure to meet a fellow French designer: Anne-Sophie Cochevelou.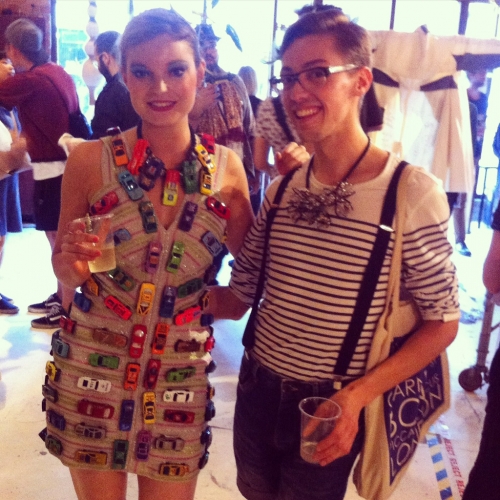 11.07.2015 – Meeting Anne-Sophie Cochevelou for the first time

She's a fabulous costume designer based in London. Not the typical French woman when it comes to expressing herself through clothes, which was fascinating to witness. The fashion I was creating for women was always more colourful and fun than the fashion I would wear for myself. But with meeting Anne-Sophie, I started wanting to have as much fun as my models in my shows! Why not? Everybody should!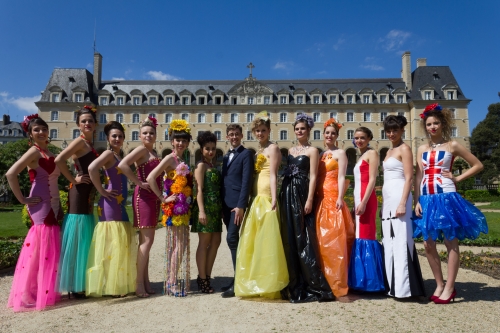 15.05.2016 – My last womenswear collection

Later that year, she introduced me to Sue Kreitzman. And just as much as this amazing lady changed many of her friends' lives, she also changed mine. Personally, I am always very excited to see what she shows up wearing. Just as much as she's always excited to see what her friends would show up wearing. And this, in my opinion, is a recipe for greatness. Because as a creative person, I think it pushes people to try harder, to challenge themselves and to come up with new ideas constantly. Also, having someone in my life that is as excited to see what I wear, as I am excited to see what she wears, is a blessing. Not many people are the cheerleading type, but God knows Sue and I definitely are!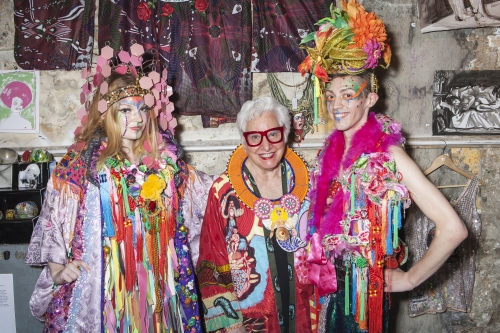 03.11.2015 – First time meeting Sue Kreitzman

So there you have it, by expressing ourselves through clothing, and encouraging others to dress as they please, there's an inspiration process happening. Personally I do not have much clothing yet, so I don't dress like this every day. But I choose to dress up when I want to. And it is usually related to occasions. I usually say: "any occasion is an excuse, any excuse is an occasion." So I dress up for events, which is great in several ways.
One: it helps my memory. Normally I would gather pictures after events I would attend, and then I would organise them in files named after the date and the event on my computer. Thanks to it, I have a great date memory, because I can associate outfits I wore with events I attended and dates they were on.
Two: it creates memories. There's no way I wouldn't meet, interact, socialise, bond, and even make friends with people while being all dressed up. I also associate the people I met with the outfits I wore, which helps my memory again. It creates a life for my clothes. They become more important, richer, and more sentimental. Associating people with clothing is very sentimental, actually. And seeing or wearing an item that would remind you of someone, somewhere or something helps cultivating your wellbeing.
Three: it's a lot of work to get dressed when your personality is colourful and flamboyant and you wish your clothes to reflect it. So what I like about dressing up is that I can plan my outfits in advance and really think about it. What colour? Why? Where am I going? What occasion? Can I make a statement? And this is how I like it for now. But hopefully the older I get the more clothes and space for it I get too, and maybe I'll end up getting dressed instead of dressing up. Well at least when you dress up it makes everything special because it's not the way you dress every day.
Alright, before I end this talk, I would like to share some of the things I believe in and often tell myself. I don't believe in rules, but these words help me on my journey to becoming myself.
"You only look ridiculous if you think you are."
"Everything starts from yourself."
"Dress for the job you want."
"Fake it till you make it."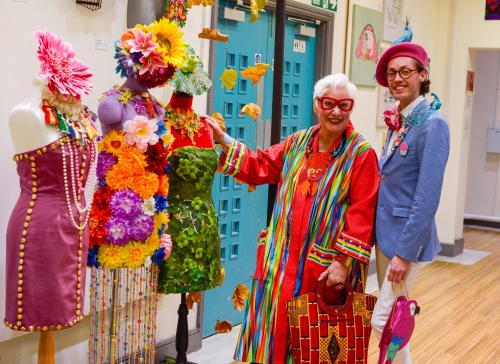 For me, it's not about fashion, it's about expression.
Thanks to clothes we can literally become anyone.
And we can decide to be someone new every day.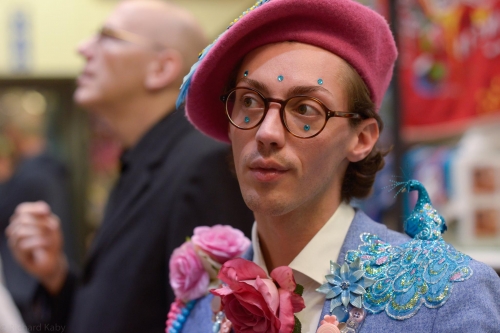 I like to be a chameleon. I don't mind standing out,
but I am not actively looking for it. And I don't mind fitting in,
just as long as it's not in one place in particular.
Thank you.
-
I would like to thank the photographers behind all the pictures I used in my presentation and article: Adrien Leguay, Richard Kaby, Michele Martinoli, Helena Dornellas, Cathy Teesdale, Ruthy Mandry, Neil Andrews, Semen Sapaiev, Ceri Oxman, Diana Dau, Pouru Onishi, Zac Zenza, Daniel Rachev, Jared Phanco, Bill Gidda, @mrlittlelake, Elena Rostunova and Leah Lefevre.